Catechetical Sunday 2015 – There's A Twist This Year!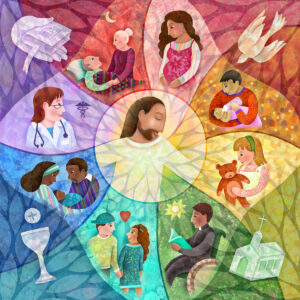 This Sunday the Church will celebrate Catechetical Sunday. The root word, "catechesis," is from the Greek word meaning "to echo, or resound." Catechesis is the act of bringing the Church's teachings to the world. In many parishes, including Saint John Bosco, those designated to serve as catechists will be called forth during Sunday Mass to be commissioned for their ministry in the parish community.
Catechetical Sunday is a wonderful opportunity to reflect on the role each person plays, by virtue of Baptism, in handing on faith and being a witness to the power and presence of Jesus Christ. All of us are called to holiness – and we help each another to be holier as we allow our relationship with the Lord grow and deeper each day. As our relationship with the Lord deepens it has an impact on the way we speak, the choices we make, and the way we live our life.
This year's theme, "Safeguarding the Dignity of Every Human Person," reminds us that the dignity of every person rests in the biblical teaching found in Genesis (1:26-27) that he or she is made in God's image and likeness. It also reminds us that we the baptized need to actively support and protect others from all sorts of harm, cherishing human life from the moment of conception to a natural death.
This year's celebration of Catechetical Sunday brings with it a twist from other years. Why? Because it is celebrated two days before Pope Francis arrives in Washington, D.C. on Tuesday evening, September 22nd, from Cuba. He comes, the visible sign of the unity of Catholics throughout the world, as a messenger of mercy and hope for all people.
In his preaching and teaching, Pope Francis regularly reminds us that the Ten Commandment and the Beatitudes provide the spiritual and moral foundations for our Christian life. I'm confident that he will be "echoing" that reality in what he says, as well as what he does, while in the United States.
Pope Francis' agenda is a full one – he arrives on Tuesday, September 22nd and returns to Rome on Sunday evening, September 27th. It is a mix of church life and political life – remember he comes as the Bishop of Rome and the ex officio Head of State of Vatican City State. That means Masses in Washington, D.C., New York City and Philadelphia. Meetings with American bishops, clergy, religious, and lay faithful – as well as visits as a head of state to the White House, the U.S. Capital and the United Nations. And there is the primary reason for his coming – the World Meeting of Families that will take place in Philadelphia.
So, the visit of Pope Francis is really, as Matthew Bunson writes in the publication, Our Sunday Visitor, "A pilgrimage in three acts, weaving his three stops together under the key theme of striving together at the service of the authentic common good. As he wrote in his encyclical, Laudato Si (Praise Be to You), 'The urgent challenge to protect our common home includes a concern to bring the whole human family together to seek a sustainable and integral development, for we know that things can change'" (No. 13).
As Bunson concludes, "More than his words, Pope Francis' gestures – both planned and unplanned – will teach America once again that the authentic common good is not some set of environmental, business and political policies. In his visits to a homeless shelter, his embrace of migrant workers and his gentle kiss on the forehead of an old woman banished to the increasingly forgotten peripheries of American life, he will demonstrate love of God and of neighbor. As he said soon after his election, that is 'not something abstract, but profoundly concrete: it means seeing in every person the face of the Lord to be served, to serve him concretely.'"
Pope Francis asks people regularly, "please pray for me." This week, I ask you to please be intentional in praying for him as he prepares to visit Cuba and the United States. Pray that the Holy Spirit will be his guide – and that people of good will may open their hearts not only to him, but to the message he brings. After all, his words will challenge, encourage, and probably infuriate many people. But they will be words that all of us need to hear and allow to challenge the manner in which we safeguard the dignity of every human person.
I encourage you once again, to find time and space each day to talk with God. It may mean visiting the Eucharistic Adoration Chapel or taking a walk down the parkway. What about saying a decade of the rosary on the way to the store, practice or Mass? It is nice to find a quiet place to be with God, but even the interruptions of life can be turned into moments or occasions of prayer. Simply do your best to spend time with the Lord every day.
Question – What would you tell Pope Francis if you could sit down with him for a couple of minutes while he is in the United States?
Here is a great article, "A Media Guide to Pope Francis' trip to America," by John Allen, published in Crux, that you might want to take a couple of minutes to read sometime before Pope Francis arrives in the United States on Tuesday, September 22nd.