Called to Holiness & Sent to Serve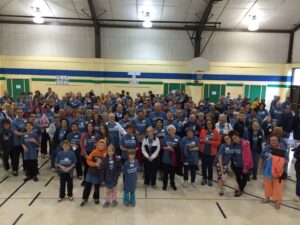 On Pentecost Sunday in 2013, as our parish community open a year-long celebration of our Fiftieth Anniversary, we embraced a five year "Parish Pastoral Plan" that would guide life and ministry here at Saint John Bosco through the fall of 2018. The foundational goal of our Pastoral Plan is "Saint John Bosco Parish is a Catholic caring community growing together in holiness through prayer, worship, fellowship and Christian service."
A "Generous Hearts Team" of 15 parishioners, representing the various demographics of the parish, spent eighteen months developing our Pastoral Plan – collaborating with the members of our Parish Pastoral and Finance Councils, as well as parishioners, and our parish pastoral staff. We entered into this planning process well aware that our parish has been greatly blessed since its founding in June of 1963. Over the years we experienced growth and change in members, as well as parish ministries, organizations and programs. We acknowledged that we have a great parish, and have been doing wonderful things. Yet, we knew that as we looked forward, we needed to continue to grow and develop – acknowledging the changes that are happening within and around us. So, our goal was to remain a vibrant parish and an instrument of Christ's presence in our community – building on the foundation of our first fifty years of parish life and ministry.
Three years into the implementation of our Pastoral Plan we are reaping the benefits of the work that went into its development. More and more parishioners are being engaged in parish life and ministry – and taking ownership for what is happening here at Saint John Bosco. A variety of new ministries have been developed – including our Bethany Funeral Ministry, Pathways to Hope, Cancer Spiritual Support Group, Stitched with Love, Venture Crew 139, El Salvador Ministry and our Parish Prayer Line. All of these are fostering a greater sense of belonging here at Saint John Bosco.
We are offering a wider variety of adult faith formation opportunities throughout the year – in traditional ways with meetings at the parish, as well as offering opportunities online through FORMED. We've strengthened our collaboration with the parishes of our cluster in various ways – including the Rite of Christian Initiation of Adults, retreat and reflection days for men and women, and Lenten "soup & conversation" evenings. We strengthened our communication and networking with parishioners through our use of social media.
Among the 13 goals of our Pastoral Plan was a challenge for us to look outside ourselves as a parish and reach into our local community. Our "SJB Run with Me" 5-K run and 1-mile walk has enabled us to do that – with all of the proceeds of this annual event equally divided between the Parma Heights Food Pantry and the Saint Vincent de Paul Society of our parish. This event increases our parish's on-going commitment to be of service to our sisters and brothers who are in need.
Our third annual "SJB Run with Me" is on Saturday, June 4th – our goal for this year is to raise $10,000.00! You are welcome to participate by running or walking, or simply coming to watch the fun and be part of the cheering crowd at the finish line. There is also a pre-race Spaghetti Dinner at Saint John Bosco's Bell Tower on Friday, June 3rd from 4:00 to 7:00 pm – $7.00 per person Catered by Bruno's Ristorante.
This past Saturday was our first "Saint John Bosco Community Service Day." 240 parishioners came together for a day of fellowship and service. We gathered in the morning for coffee & donuts, "Caring Crew" T-shirt distribution, and a blessing-prayer of sending. Then we went into the Parma Heights, Brook Park and Middleburg Heights area to be of service at 17 sites. We had "Caring Crews" at Parmadale, a number of local Nursing & Assisted Living Facilities, Maggie's Place, the Parma Heights Pocket Parks, the Post Office Food Drive, North East Ohio SPCA Animal Shelter, and homebound parishioners. We also assembled "Care Packets" for the Prison Ministry of the Diocese of Cleveland. The energy throughout the day was unbelievable – and a testimony to the enthusiasm of everyone involved. We ended the day at Mass to give praise and thanks to God for our ability to be of service to others.
Three years ago when we embraced our Pastoral Plan some people wondered how the 13 goals would ever materialize. As you can see from today's blog, because of the generosity and passion of so many in our parish community, 7 of the 13 goals are now part of the rhythm of the life and ministry of Saint John Bosco. To our parishioners and to God I give thanks!
Yes, we still have 6 more goals to implement between now and the fall of 2018. But given the accomplishments of the past three years I am confident that those will gradually become part of the manner in which the people of Saint John Bosco respond to being called to holiness and sent to serve!
Question – What is it today that makes you proud to be part of the Saint John Bosco Parish Community – or the parish/faith community to which you belong?