As Summertime Continues to Unfold
"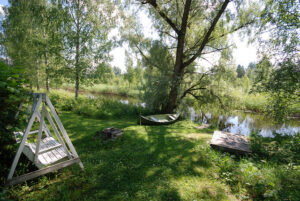 Summertime," George Gershwin wrote, "and the livin' is easy." His words are from a different era. They remind us of a time when much of everyday life would really slow down during the summer months and people were easily able take time away from their normal activities and responsibilities. In the days before air conditioning, people would leave the comfort of their homes, even when they weren't away, to sit and sometime even sleep on the porch in the hope of getting just the slightest breeze. Things simply slowed down or came to a stop, at least for a while during the summertime.
That kind of life has long since disappeared. Today, people talk about needing to be available "24/7," and not only while at work or during busy periods in life. Communication is instantaneous.  We have access to information at our fingertips in seconds. What just happened on the other side of the globe we will know in a matter of minutes. In spite of, or perhaps because of, all of our modern conveniences, the pace of life has really speeded up compared to past decades. So, too, has the stress.
Most of us, myself included, would not want to undo all of the achievements of technology and our present day culture. We value the resources of the internet, social media, and all of the other elements of technology at hand. We depend on all of our electronic and wireless resources as an essential element of the rhythm of daily life. If you don't believe that's the case; think of how trapped you feel when the electricity goes out or you find yourself in a place where the internet is unavailable.
In spite of the frenzied pace that surrounds us, summertime can still be a time when we can slow down and steal that extra time to reflect.  Not just on what we do, but on who we are – and to Whom we really belong.
It's summertime. So, in the midst of all the family vacations, sports schedules, and general busyness of life, I encourage you to slow down the rhythm of your life so that you don't miss the moments of joy. A beautiful sunrise or sunset. Summertime flowers. A child eating watermelon with it dripping down her face. The smell of a real barbecue. The heat of the summer.  A day at the lake.  Sitting on the porch with a refreshing drink by your side.
It's summertime.  Take the opportunity to bask in the goodness of the Son – Jesus Christ. Slow down.  Breathe deeply.  Experience the love of the God who is the source of all that we are and all that we have. Pray a little more. Give thanks to God for the beauty of summertime as it continues to unfold before you. After all, it will soon be a memory of a time goneby!
To slow down my life a little during these summer days, through Labor Day I will be blogging every other week – so my next blog will be on August 12th.
A reminder to those who live around Saint John Bosco Parish in Parma Heights – our International Festival is from Thursday, August 13 thru Sunday, August 16. For the Festival Poster and complete details go to our parish website.   I hope to see you at the Festival.
Question – Consider sharing with us how you are spending these summer months. What are you doing to make the livin' easy in the summertime?