As Summer Continues to Unfold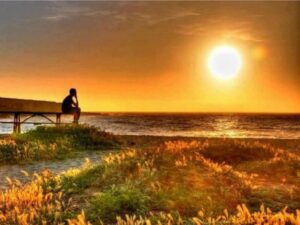 What matters most to you? What is the treasure you are willing to "sell all you have" in order to buy? Just take a look at your calendar and you'll find out. As writer Annie Dillard says in her book The Writing Life, "How we spend our days is, of course, how we spend our life."
The days, hours, and minutes of our lives are the great fortune that we have to spend, whether it's spent on the pearl of great price or squandered away on one valueless trinket after another. What we do with the precious gifts of our time and our talents reveals what we truly value, whether it be wisdom, faith and love – or our own comfort, ease and amusement.
During these summer days how much time are we spending in prayer? Have our conversations with God taken a back seat to the other activities of life? Are we joining in the celebration of Mass on the weekend or has something else become a little more important than that hour with the parish community? When you drive down Pearl Road, do you take the time to stop in the Adoration Chapel for a brief visit in order to be "refreshed in the Lord?"
Consider going to your favorite app store and download Loyola Press' free app, the "3-Minute Retreat," for a peaceful prayer experience that helps you re-connect with God, re-center your day, and relax, wherever you are. On a daily basis, the app guides you on a bite-sized retreat filled with Scripture passages, soothing music, and reflection questions that you can pray with at your own pace. It's great for these summer days!
This week children from our parish are gathering throughout the property for our annual Vacation Bible School. This year's theme is "Hero Central – Discovering your strength in Christ." The enthusiasm of these young children is amazing. They will be sharing a few of their Vacation Bible School songs with us at the 4:00 pm Mass this Saturday. When was the last time you took some time to discover your strength in Christ?
Think about family and friends. Have these summer days allowed us to be with them a little more? I'll bet we all have someone in our life who would welcome a visit. Have you thought about stopping in to check in on an elderly neighbor, especially on a hot and humid summer day?
For most of us summer means vacation. But remember – being on vacation doesn't necessarily mean going to the beach or taking a big city tour. It could be a visit to family out of state or right here at home that you've been putting off. Or maybe it's a day at Cedar Point, at one of our state parks, or along Lake Erie. It might even be walking around downtown Cleveland some afternoon – stopping in at the Cathedral of Saint John the Evangelist, an early dinner at of the many restaurants in that area of the city, and then taking in a sunset at Voinovich Park behind the Rock-and-Roll Hall of Fame.
As the days of summer continue to unfold, I thought that it would be appropriate to remind you of some insights that Pope Emeritus Benedict offered a few years ago about how we could spend the days of summer.
Benedict suggested two goals for vacation besides relaxation – spending time with others and spending time with God. It's obvious how to spend time with other people – bring them along or go with them. But how do we spend time with God while on vacation? The pope offers three ideas – being in nature, reading scripture and visiting sacred places. Those suggestions seem pretty good to me. Do you best to enjoy these summer months! After all, before you know it they will be just a memory.
A reminder to those who live around Saint John Bosco Parish in Parma Heights – our International Festival is Thursday, August 17 thru Sunday, August 20. It's a great summer time activity right here in our neighborhood – with ethnic foods, kiddie & adult rides, games of chance, and wonderful live music. There will be fireworks at night on Friday, August 18. I hope to see you at the Festival.
To slow down my life a little during these summer days, I'll be blogging once a month. My next blog will be on August 16th.
Question – Consider sharing with us how you are spending these summer months. How are you spending some of your time with God, family and friends?