An October Potpourri of Thoughts for Your Consideration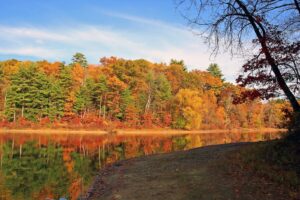 I began my vacation yesterday – and will be spending my time away in the sun, catching up on some reading that I've put aside, and relaxing with a great friend. I thought that I would do something a little different this week and offer you an assortment of items for your reflection.
As you know, the month of October is dedicated to Mary under the title "Our Lady of the Rosary." I hope that you have been taking some time to pray the rosary this month.
Saint John Paul II, in his 2002 letter On the Most Holy Rosary, described the rosary as an "exquisitely contemplative prayer." It starts with Mary's human experience, and it encourages us to learn from our own. Another insight this well-known saint offered is that "each mystery of the Rosary, carefully meditated, sheds light on the mystery of man" and our pursuit of holiness.
In the Joyful Mysteries, (prayed on Mondays and Saturdays) contemplating Christ's birth, we learn the sanctity of life; contemplating the household of Nazareth, we learn the original truth of family by God's plan.
According to the Mysteries of Luminous Mysteries, (prayed on Thursdays) listening to the Master's public teachings, we are enlightened to enter the Kingdom of God.
In the Sorrowful Mysteries, (prayed on Tuesdays and Fridays) following Christ to Calvary, we learn the meaning of salvific suffering.
And according to the Glorious Mysteries, (prayed on Wednesdays and Sundays) contemplating Christ and Mary in glory, we see the good toward which we are called if we allow ourselves to be healed and transformed by the Holy Spirit.
This Saturday, October 24, Bishop Lennon will ordain 5 men to the diaconate at the Cathedral of Saint John the Evangelist in Cleveland. The Ordination Mass begins at 10:00 am and you are welcome to attend. If you aren't able to attend, the Ordination Mass will be live-streamed at the website for the Diocese of Cleveland. These men will be continue their studies and anticipate ordination to the priesthood for the Diocese of Cleveland in May of 2016. Please keep them in your prayers in the final months of their formation for the priesthood.
Like many of you, I am following the Synod of Bishops on the Family that is taking place at the Vatican. It continues through this Sunday, October 24th. America Magazine, Catholic News Service, Vatican Radio, and the United States Conference of Catholic Bishops are all excellent resources for keeping up to date on what is happening at the Synod during these historic days.
We continue our October observance of "Respect Life Month." I invite you to pray for a greater respect and dignity of all life – from the moment of conception until natural death. That must be our proclamation each and every day – in prayer and in action. That proclamation calls us to respect all of life. This includes those whom we might be tempted to cast a judgment upon. We must remember that every human life is created in the image and likeness of God and worthy of respect and dignity; without exception.
I don't know if you caught the article in the Cleveland Plain Dealer on October 8 about the non-Catholic "clergy" in Cleveland who went to a local abortion clinic and blessed the place with the intention of preserving the possibility of abortion for "troubled, distressed, and distraught women who are forced to make this most difficult decision," so they proclaimed. They prayed this blessing, "May its walls stand strong against the onslaught of shame thrown at it. May it be a beacon of hope for those who need its services." I and many others found it to be a confusing and horrifying scene pictured in the newspaper.
I am amazed that individuals who claim to be "clergy" found the "distressed and difficult lives" of the mothers to be judged as more valuable than the lives of their sacrificed children. From the article it appeared that the "service" was only about the mothers, whom we would call "pregnant women," with their children, aborted fetuses, having absolutely no mention in their "prayer" or "blessing." What a striking contrast to what this "Respect Life Month" is all about.
Finally, this coming Sunday Catholics across our country will be celebrating "Priesthood Sunday." It is a time set aside to celebrate the importance of the gift of the priesthood in the life of the church. It is a good time for all of us to reflect on the ministry of the priests in our midst. I invite you to consider sharing a personal note or a card of thanks to the priests who have had an impact on your life. Together we pray that many of our young people will be inspired by the ministry and witness of our priests.
Question – What do you find yourself reflecting upon during these October days?