An Evening of Confession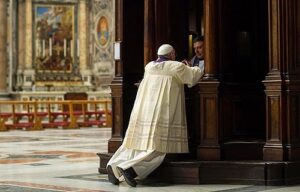 Among the wonderful tales of the Desert Fathers of the early Church is the story of a soldier who approached a holy monk.
"Does God really accept our acts of repentance?" the soldier, torn with doubt, asked.
The monk asked in reply, "Tell me, if your cloak is torn, do you throw it away?"
"No, of course not," the soldier replied. "I mend it and use it again."
The old monk said, "Well, if you are so careful about your cloak, will God not be equally careful about his own child?"
In his parables on forgiveness, Jesus reveals to us a God of beginnings, a God who is never satisfied with rejections and terminations and endings, but who always seeks and offers new beginnings, second chances and clean slates.
As the parables of the lost sheep, the lost coin and the lost son illustrate, so great is the mysterious love of God that we are never written off as lost or dead or hopelessly irredeemable. God never turns his back on anyone – including you and me!
Pope Francis frequently speaks about the need to experience the forgiveness of the Lord in the sacrament of reconciliation – confession. We've all heard him say many times that "God never tires of forgiving us." That is an important truth for all of us to remember.
Acknowledging a popular objection to the sacrament, Pope Frances has noted, "Someone can say, 'I confess my sins only to God.' Yes, you can say to God, 'forgive me,' and then say your sins. But our sins are also against our brothers and sisters, against the Church, the Community. This is why it is necessary to ask forgiveness of the Church and of our brothers and sisters, in the person of the priest." It's pretty hard to argue with that theological statement!
Pope Francis has also cautioned that "Forgiveness is not something that we can give ourselves. One asks forgiveness, one asks it of another person, and in confession, we ask forgiveness from Jesus." Whenever we go to confession, he has stressed, "Jesus will be there. Jesus will receive you with so much love. The encounter is for healing – healing the soul, healing the heart because of something that I did to make it unwell. When we go to confession, God embraces us!"
This evening from 5:00 pm to 8:00 pm in all of the parishes throughout the Diocese of Cleveland, including Saint John Bosco in Parma Heights, priests will be available for confession. Take the words of Pope Francis to heart. Don't be afraid to go to confession – whether it is this evening or at another time. The love of God is there. Don't we all need to experience the tender embrace of a good and merciful God?
Question – When was the last time that you experienced the forgiveness of the Lord in confession? What's holding you back from hearing the Lord Jesus say, "I forgive you"?