Amoris Laetitia – The Joy of Love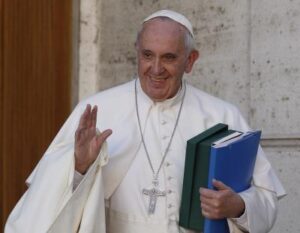 This Friday the release of Pope Francis' highly anticipated post-synodal document, Amoris Laetitia (The Joy of Love), on love in the family will take place. This document is the conclusion of a two-year synod process that engaged in lengthy discussions on the beauty and the challenges of family life in church and society.
The document will be presented at a press conference at the Vatican by Cardinal Lorenzo Baldisseri, the General Secretary of the Synod of Bishops, Cardinal Christoph Schonborn, OP, Archbishop of Vienna, and a married couple from Italy – Professors Francesco and Giuseppina Miano. Friday's press conference can be seen live at 8:00 am Rome Time – which is 2:00 am Eastern Standard Time. Simultaneous translation services will be available in Italian, English, and Spanish.
As you might recall, there was a great deal of preparation for the back-to-back Synods of Bishops in 2014 and 2015. That preparation included diocesan consultations with lay and ordained experts, and in some places open surveys of the People of God about the state of marriage and family life. Cardinal Donald Wuerl of Washington, D.C. in speaking about the work of both Synods in an interview earlier this week reminded us that when Pope Francis called for a process, "He kept saying, this is a process of listening.  It's about hearing what people are going through, and also reminding ourselves of our teaching."
When the Synod concluded last October, the bishops issued a lengthy document to advise Pope Francis. Bishops and those who participated in the Synods, agreed that families need much more focus, including, for example, increased marriage preparation. But they were clearly divided on things like the reception of Holy Communion for the divorced and remarried; and what language to use to be more welcoming of our homosexual brothers and sisters and persons who live together outside of marriage.
The pope's document, known formally as an Apostolic Exhortation, is expected to sum up the debates and decisions of the synod meeting. Pope Francis may also make new decisions concerning the church's pastoral practices. Yet, changes in the theology of marriage and family life shouldn't be expected.
Cardinal Wuerl offered these observations as he spoke about this document. "I think what we really need to do when this comes out is to recognize that this is the work of a huge consensus in the Church, whether or not absolutely everyone agrees with every aspect of it.  This was two years of dialogue, and it was not closeted dialogue. It was totally public. Some of it was exaggerated, but that happens in dialogue."
Here's what Cardinal Timothy Dolan said in an interview last week about the anticipated release of this document, "When you have a Church that says that family is actually the reflection of the life of the Holy Trinity, when you have a Church that says that the love expressed between a man and a woman in marriage is the reflection of God's passion and eternal life, that's magic, that is powerful. And most people don't hear that, most people don't believe that. . . . I think what you're going to find is a classic Catholic approach, of a clear defense of Church teaching and yet a call for creative ways to extend the mercy of God to people."
Archbishop Mark Coleridge of Brisbane, Australia has said that he hopes Pope Francis will encourage people who are married and contemplating marriage while "unmasking some of the lies and half-truths that have gathered around marriage and family life in more recent times."
John Allen, editor of Crux and a longtime Vatican writer, who describes Pope Francis as a "doctrinal moderate and a pastoral revolutionary," suggests that the document will present us with the "most tolerant application of church teaching."
So, until Friday morning we wait. Then, once Amoris Laetitia has been released, we need to read and study it in order to see what the pope has said. Let's not count on media sound bites or headlines. Let's read it and see how the Church receives it.  I believe that Cardinal Wuerl, who said that he knows full well that no matter what Pope Francis says in his document on family, some Catholics are going to be upset with it, offers the best advice when that happens.  "It's the pope, folks. You can't pick and choose among popes and still claim to be Catholic. For a Catholic, the rock is Peter. . . . Every pope in my lifetime has had something to say that people didn't like. We must always remember, the same Spirit is guiding the Church in every different period of her life."  You can't say it any better than that!
So, I'm going to take the time needed to time to read and study Amoris Laetetia – I hope you will do the same.  Later this month I'll be offering you some of my observations on The Joy of Love.
Question – From your perspective, what are is the one issue you believe has the greatest impact of marriage and family life today?