A Real Christmas Manger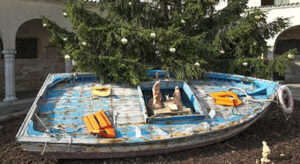 In her book The Gospel According to Abbie Jane Wells, Abbie Jane Wells writes: "'The busyness of preparing the nursery' for Mary and Joseph was no 'hanging the greens, wreaths, the poinsettias.' It was the mucking out of a cruddy stable so that it would be as clean as possible for the birthing – and that would require some shoveling of manure out of the way. . . . Could it be that modern preparations in churches as well as homes, the getting ready for Christmas, are 'busyness for busyness sake,' to keep us too busy to sit down and think about what 'born in a stable and laid in a manger' really involved for Mary and Joseph?
We 'deck the halls with boughs of holly' and anything else we can think of – and never, or hardly ever, think of the realities of the birth in a stable. We gussy up our churches with rich galore and so distance ourselves from the home for the Christ Child – that was the best that Joseph could provide and very poor it was – to show how much fancier and richer a 'home' we can provide – as if we were trying to shame Joseph – so fancy that the poor and the people of the streets wouldn't dare to wander in to a Christmas Eve service. Nor would poor Mary and Joseph and Jesus either!"
There are two Gospel versions of Jesus' birth. Matthew – chapter 1 verses 18-25 and Luke – chapter 2 verses 1-14. Most people are more familiar with Luke's version because it is proclaimed on Christmas Eve and is commonly the setting for most of Christmas stories and cards.
Matthew's version doesn't speak of a choir of angels and adoring shepherds. He presents a heartbreaking story of a young unmarried woman suddenly finding herself pregnant; and her hurt and confused husband wondering what to do. In Matthew's Gospel, Jesus' birth is a devastating scandal. But in the midst of the hurt and confusion, into these two broken lives, God chooses to come. Emmanuel – "God is with us" – transforms and enables Joseph and Mary themselves to transform this messy situation through compassion, forgiveness, generosity, mercy, hope, and trust.
As we decorate our homes and church with lights this week, we should do our best to keep in mind the real light that illuminates our hearts with love and peace. It is the light of the Savior – Christ, the Lord.
As you bask in the lights of your Christmas tree during the coming weeks, ponder the words of Pope Francis as he turned on the lights of the Christmas tree at Assisi and the Nativity scene there that was made from the remainder of a boat used to carry migrants to the cost of Lampedusa. "Looking at that boat [that manger] . . . Jesus is always with us, even in difficult times. How many brothers and sisters have drowned at sea! They are with the Lord now. But he came to give us hope, and we must take this hope. He came to tell us that he is stronger than death, that he is greater than any evil. He came to tell us he is merciful, all mercy; and this Christmas I invite you to open your hearts to mercy and forgiveness. But it is not easy to forgive these massacres. It's not easy." Pope Francis concluded his remarks by reminding everyone that we must be "sowers of hope, the hope of Jesus."
May the beautiful greenery and flowers that adorn our tables during these Christmas days remind us that God comes to transform our own cruddy stables into His dwelling place. Let us never forget that Christ is present in even the messiest, sweatiest, most embarrassing and despairing moments of our everyday lives.  As people of faith, we are never alone!
During these beginning days of the Jubilee Year of Mercy, may we commit ourselves to being ambassadors of mercy and sowers of hope. Remembering always the promise made to all of us – Emmanuel, "God is with us."
Tomorrow we will begin the countdown to Christmas with the "O" Antiphons that highlight a different title of the Messiah during these final days of Advent. Consider taking a few minutes each day to reflect on the "O" Antiphon of the day.
Question – What thoughts are running through your mind during these final Advent days? Is experiencing the forgiveness of mercy of God among them?  Are you willing to share them with us?