A "Powerhouse of Prayer" on Pearl Road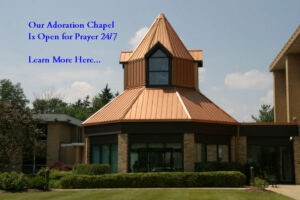 The Jubilee Year of Mercy will come to a conclusion this Sunday, the Solemnity of Christ the King, as Pope Francis closes the Holy Door at Saint Peter's Basilica at the Vatican. In his closing "Jubilee Audience" this past Saturday, Pope Francis presented the concept of inclusion as an aspect of God's mercy. In his teaching, he reminded us that "In God's plan of love, God does not exclude anyone, but wants to include everyone. Jesus gives a truly universal invitation, 'Come to me, all you who are weary and burdened, and I will give you rest.' No one is excluded from this call, because the mission of Jesus is to reveal to everyone the Father's love." He concluded his teaching by challenging all of us to imitate Jesus and become engaged in this movement of inclusion of others, "to be witnesses of the mercy with which God has accepted and welcomes all of us."
As I reflected on Pope Francis' call to inclusion, I thought that this would be an appropriate time for a revision of a previous blog that talked about the building on the property at Saint John Bosco "with the copper top" that is lit up day and night. Our Eucharistic Adoration Chapel. Yes, parishioners know what the Eucharistic Adoration Chapel is – but what about the people in the hundreds of cars that pass by on Pearl Road every day and night?
The Eucharistic Adoration Chapel at Saint John Bosco is open twenty-four hours a day seven days a week. A significant number of our parishioners have committed to one or more hours per week while others have agreed to become substitutes, coming in as called by weekly adorers. We are grateful to others in our local area who have joined our parishioners in a commitment to one or more hours per week.
If you talk to those who frequent our Eucharistic Adoration Chapel, have signed up for a holy hour, or even those who make an occasional visit to pray in the presence of Christ in the Eucharist, you will likely hear about the healing, transformative power of this prayer practice. But for other Catholics, adoration can be a little intimidating. What do we do while we sit in the quiet? Are there special prayers?
Allison Gingras, Catholic radio host, blogger, author, and retreat director spoke about her experience of prayer in a Eucharistic Adoration Chapel. "I was coerced, in the nicest way possible, by a friend to commit to a weekly adoration hour. I hesitated, but there was something in my heart urging me to answer this invitation. I arrived at the Chapel, pulled out my rosary, knelt down and prayed. Much to my chagrin when I glanced down at my watch, only 17 minutes had passed. My knees were hurting, and I was at a loss to what I would do for the remaining 45 minutes. Then I was struck by the craziest idea. I would ask Jesus how to spend my visit – He was right there after all. First, the Holy Spirit instructed me to sit down. It was not necessary to kneel for the entire hour. Followed by inspirations to bring spiritual reading each week – a Bible, a book, even a good Catholic magazine. I added to that a journal. I eventually thought to bring my tablet, silencing it before walking in, where I had my prayers and other devotions were downloaded. Most importantly, the Spirit reminded me that this time of quiet was an opportunity to hear Jesus speak to me. I got cozy, looked at Jesus and listened. My life and my faith have never (in the nicest way possible) been the same."
Adoration is growing in popularity and practice among American Catholics. Perhaps that's because daily life, for so many, has become chaotic that there is a desperate search for a place and practice that can become the calm amid the storm – Eucharistic Adoration can become that place. Is that a familiar feeling?
Anyone is welcome to come and spend time in the prayer in the presence of the Holy Eucharist and allow Jesus to calm and transform your life. Your visit doesn't have to be for a full hour – it can as long or as brief as your daily schedule permits. It is time away from the hectic pace of life spent with the Lord.
I invite you to come to the Eucharistic Adoration Chapel for peace. Give it a try this week as you drive down Pearl Road. Stop in. Come to thank God for the blessings God showers upon you and your family. Come with your needs, petitions, worries, and problems. Come to spend time in the presence of the Lord Jesus and I promise that you will feel refreshed, strengthened, and better able to deal with life's challenges.
A visit to the Eucharistic Adoration Chapel would certainly be a good place to spend time praying that President-Elect Trump can bring some healing and unity to our country. This election has been the nastiest and most divisive in modern history. Our politics have been reduced to destruction of our opponent at any cost. Our candidates for national office have engaged in constant and ugly judgments and personal condemnation of one another. Our Catholic faith calls us to just the opposite – unity and solidarity especially with those that we might be inclined to see as enemies. Our mission as Catholics, and as Christians, especially as the Jubilee Year of Mercy comes to a conclusion, ought to be reconciliation with our neighbors and a healing of this ruptured world in which we live. More than ever, we need to pray for the courage to forgive and be reconciled with those we disagree with.
I like to refer to our Adoration Chapel as a "Powerhouse of Prayer" on Pearl Road. The presence of this "Powerhouse of Prayer" right here in Parma Heights should bring a sense of solace to the entire community. I encourage you to let others know about this place of solace in the presence of the Lord Jesus!
Perhaps you are able to make a weekly commitment of spending one hour in the Eucharistic Adoration Chapel. If that is the case, please call the parish office at 440-886-3500 or email us at sjbinfo@sjbparmaheights.org and let us know the day and hour that you are able to join our weekly adorers. In all honesty, we need people who are able to make this kind of a weekly commitment because it is our desire to have at least two people in prayer twenty-four hours a day.
Question – Are you taking advantage of this "Powerhouse of Prayer" on a regular basis? If so – perhaps you could share what a visit brings into your life. If not – I invite you to considering stopping in for a visit sometime soon.