A Painful Month for the Church!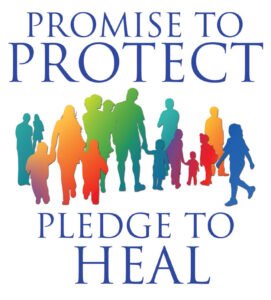 It has really been a painful month for the Catholic Church in the United States. The release of the grand jury report in the Commonwealth of Pennsylvania has once again brought pain, embarrassment and anger to many of us. Instances of sexual abuse of minors, committed by members of the clergy and the failure of some leaders in the church to protect our children and our young is scandalous. There is no other way to put it!
Over the last two weeks I've been surprised by the number of people who have stopped and asked me if I'm okay. In all honesty, their question caught me off guard. "Sure, I'm okay," I've responded, "I've just got a lot of things on my mind." Then I would rattle off a few things that came to mind.
However, as I've taken that question to prayer, I've come to realize that what we've been hearing and reading has taken me back to the spring of 2002. Obviously, that's been on my mind and has caused many memories to come to the surface. As many of you might remember, at that time our diocese was going through a similar grand jury investigation. Throughout that year, you couldn't open a newspaper or watch the evening news without another report on what was happening. For me as a priest, and for many others, that was a very difficult year – a time filled with sadness, anger and pain.
Because of my ministry in the diocese at that time, I found myself right in the midst of the Church's public pain and embarrassment in a way that I had never imagined. I sat with victims who poured out their hearts with painful memories of crimes committed against them by someone whom they had every right to trust – a priest. Many of them, although the abuse happened years before, spoke about what had happened to them as if it took place the day before our meeting. Remembering very specific details of what happened to them. Some spoke with tremendous anger and tears. Others told me that they couldn't even consider stepping inside a Catholic church again, let alone praying or believing in God. And a few told me that they had been able to move beyond what had happened to them – and then explained how that had become possible. For all of them, their lives have never been the same. Innocence was stolen from so many of them. I apologized to all of them in the name of the Church. Many had already received similar apologies from other leaders in the Church. I've lifted them in prayer every day for the last 16 years – and I have an angel in my office given to me by one "survivor" who told me that the most important thing I could do was to pray for her daily.
I have also sat with priests who had been accused of abusing a minor. Telling them that they had to immediately leave their assignment, explaining the restrictions that were being placed upon them – and informing them that the allegation brought against them had already been reported to the appropriate civil authorities. Those meetings would eventually be followed up by visits to the parish to inform parishioners why their priest had been remove from public priestly ministry.
I also remember sitting in a room with credibly accused priests watching them sign an acknowledgement and acceptance of their permanent removal from priestly ministry – what so many people understand as being "defrocked." That would be part of the punishment for their actions.
I am proud to tell you that since that year the Church has been in the forefront of creating an atmosphere that offers protection for the children and young people. Mandatory training sessions for church clergy, religious, employees and volunteers, as well as our children and their parents, has enable the church to create an atmosphere where countless individuals are watching and protecting the children and young people who are in our midst. Mandatory background checks for priests, deacons, church workers, as well as our volunteers who have regular contact with children. Mandatory reporting to civil authorities by everyone, not just those in leadership roles, is now a necessary expectation, with criminal penalties for those who do not report suspected abuse. A national Charter for the Protection of Children, and Norms for its implementation, assure that measures are in place to discipline and remove priests who have been credibly accused of abusing minors. Review Boards comprised mainly of lay women and men investigate and give recommendations to a bishop on how to deal with an accused cleric.
Right now we hear many calling for the removal of leaders in the church because of how they dealt with this reality many years ago. In all honesty, I see this as the latest bastion of Catholic animosity under the guise of the protection of children. What is even more shocking is the opposition to Pope Francis, especially by a group of bishops who have taken an oath of fidelity to Peter and his successors. I firmly believe, as Francis has indicated, time will tell where the truth lies.
I reflect on this with you today not to elicit your sympathy. But simply to let you know that I, and so many other priests, once again find ourselves overcome with pain, embarrassed and anger by the actions of a few. I also believe that many are asking for a reason to keep the faith in the midst of all that is happening.  Why stay?
In the Gospel on the last Sunday of August, we were told that Jesus' disciples were abandoning him. He asked the twelve if they also wanted to leave. Peter responded, "Lord, to whom shall we go? You have the words of eternal life." Even though Peter was unhappy and not all that excited about staying with Jesus – he proclaimed that he no better option available to him. So he stayed. Jesus accepts Peter's imperfect faith – and Peter's life is ultimately transformed. His very life shows us what faith is all about. That God is real and walks with us through all of the moments of life. The troubles and difficulties of life tell us that faith is as much about persevering as it is about celebrating, and it is more about trusting than it is about understanding. That, and so much more, is why I stay – believing that God will never abandon us! I encourage you to make that a one of the reasons are able to maintain your faith in the midst of the difficulties that surround us.
So, has this been a rough month? Yes, it's been that for me, and perhaps it has been for you. Obviously, a few of you noticed the toll it has taken in mine before I did. But in the midst of it all, we have to remember that God is loving us and all who are hurting. The pain of abuse and betrayal is certainly real, but so is the healing power of love and reconciliation. I encourage you to lift up in your prayers those who have been sexually abused, as well as those who perpetrated such crimes upon our children. While you are at it, say a prayer for me!
I'm back to blogging every three weeks, so my next blog will be on October 3rd.