A Jubilee Year of Mercy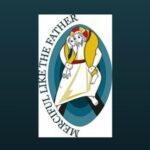 By Christmas 1863, our nation was deeply divided by the civil war. The great American poet Henry Wadsworth Longfellow, sitting in his study in Cambridge, Massachusetts, was overcome with worry and despair. Very early in the conflict he had taken a strong, uncompromising stand on abolition in the "Poems on Slavery"; but now he grieved for his country and worried about his son, a young Army lieutenant who had been wounded in battle. That December day, Longfellow scribbled these words,
In despair I bowed my head; "There is no peace on earth," I said, "For hate is strong and mocks the song of peace on earth, good will to men."
But as he wrote those words, Longfellow became aware of the sound of the bells from a nearby church. The bells pealed hope, assurance, and the presence of something much stronger than the malaise that seemed to grip his soul. Longfellow began to rework the lines he had written:
Then pealed the bells more loud and deep; "God is not dead; nor doth he sleep! The wrong shall fail, the right prevail, with peace on earth, good will to men."
Longfellow's words became the poem and the American Christmas carol, I Heard the Bells on Christmas Day.
In the ringing of Christmas bells announcing the birth of Mary's child, God calls to humanity in every time and place. I am with you every step of the way. I am with you in every storm. I am with you when the night seems unending. In Mary's child, the inexplicable love of God becomes real to us; in Mary's child, the peace, justice, and mercy of God becomes possible.
Today, we celebrate Mary's "immaculate conception" – her call to bring the Child Christ into our world. The Eastern churches honor her as Theotokos – "Bearer of God."
Today is the fiftieth anniversary of the closing of the Second Vatican Council, whose aim was to bring emphasis to mercy being the foundation of the Church's life.
Today, the Holy Doors in Saint Peter's Basilica in Rome swing open for the first time in 15 years. Through November 20, 2016, Pope Francis invites Catholics and non-Catholics alike to encounter God's grace and presence during an extraordinary Jubilee Year of Mercy.
God's mercy, of course is ever-present and ever-abundant. A Jubilee Year of Mercy doesn't make God more merciful or more inclined to forgive. God can't change. But we can, and we must. It is Pope Francis' wish for all believers that this Jubilee Year be a true encounter with the mercy of God – and that we become more effective signs of God's action and mercy in our world.
Let's face it; our world is filled with all kinds of turmoil and division. In many ways we can identify with how Henry Wadsworth Longfellow felt on that December day. Yet, we too are people of faith – people of hope. We are loved by a God who will never abandon us or our world – a God who is kind and merciful.
Jesus of Nazareth, Pope Francis writes in Misericordiae Vultus, the Bull of Indiction of this Jubilee of Mercy, is the "face" of the Father's mercy – Jesus reveals the mercy of God by his words, actions, and person. We are to follow Jesus' example when we open ourselves to the Father's mercy by looking "sincerely" into the eyes of our brothers and sister, including those "who are denied their dignity."
During this Jubilee Year of Mercy, may we become "bearers" of the Christ Child in our own Bethlehems and Nazareths; and may we be proclaimers of the hope, joy, and mercy of God in our midst! May we be "Ambassadors of Mercy" who change the hearts and lives of others by our witness just as Longfellow's was changed by the pealing of the bells.
Here is the official website for the Jubilee of Mercy. Be sure to "bookmark" it and check it on a regular basis throughout the Jubilee.
Question – How have you experienced the Father's mercy in your own life? How might Jesus be calling you to look "sincerely" into the eyes of those who are denied their dignity?