A Visit to El Salvador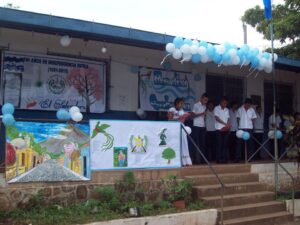 Today I am on my way to El Salvador with three members of Saint John Bosco Parish – Richelle Gnezda, Theresa Marzloff, and Allison Schulte. We are traveling with a group of parishioners from Saint Dominic Parish in Shaker Heights – and will be there until Sunday afternoon, when we fly back to Cleveland. At the airport we will be met by a delegation from Corinto who will serve as our interpreters and take care of our transportation needs during our visit.
All of us are excited about this visit to El Salvador since we will be meeting the principal, faculty, students and families of Centro Escolar Caserio Corinto – the school that our parish has adopted in in Corinto, El Salvador. We are bringing with us some pictures our Parish School of Religion students have made; and a few things that will give them a glimpse of our parish community – a cat's meow of our Adoration Chapel and our statue of Saint John Bosco, and a few other items.
The few days in El Salvador are an exciting time for the four of us – who represent the "El Salvador Ministry" of Saint John Bosco Parish. It is an opportunity for us to initiate the formation of a relationship that will enable us to share in the hopes and joys, and struggles and fears of our Salvadoran sisters and brothers. It will be a time to experience the culture, customs, and rich traditions of the Salvadoran people. And to grow in faith with God and one another.
Another exciting aspect of our trip is to be traveling with the people from Saint Dominic's as they reconnect with people at their sister parish, Santo Domingo in Chiltiupan, El Salvador and the various partnerships that they have developed over the years. We will be joining them in distributing shoes at various locations as part of their Heart and Sole Initiative, and school supplies that we are bringing with us.
While in El Salvador we will visit the sacred sites of the martyrdom of Archbishop Oscar Romero; the four American Churchwomen, including two martyrs from Cleveland – Sister Dorothy Kazel, OSU and Jean Donovan; and the six Jesuit priests.
Here's a little background for those who are wondering how this new ministry got off the ground at Saint John Bosco. In the spring of 2015 our Holy Name Society invited Jodie Bowers, the staff person at Saint Dominic's who is oversees their "El Salvador Mission Program," to their May meeting. At that meeting he discussed their parish's contributions to strengthen the bonds of friendship between Saint Dominic in Shaker Heights and their sister parish in El Salvador. In response to the positive feedback from that presentation, and with the support of our Parish Pastoral Council, it was decided that Saint John Bosco Parish would participate in Saint Dominic's "Adopt-a-School" program in Corinto, El Salvador. The school we have adopted is Centro Escolar Caserio Corinto.
An El Salvador Ministry was established at Saint John Bosco in the fall of 2015 to assist in this endeavor. Here's our mission statement. "We, the parishioners of Saint John Bosco Parish wish to support and embrace the Cleveland diocesan mission in El Salvador. We are encouraged by the words of Pope Francis that: 'An evangelizing community gets involved by word and deed in people's daily lives; it bridges distances, it is willing to abase itself if necessary, and it embraces human life, touching the suffering flesh of Christ in others.' Based on the principles of equality, justice, solidarity and Christian love, we desire to establish a relationship with the community of Corinto and assist Centro Escolar Caserio Corinto with its needs."
We currently have twenty-six parishioners involved in this new ministry – and I'm confident that the numbers will continue to grow.
It was great to have the parishioners send us off with a blessing and the assurance of prayers at the 4:00 pm Mass on Saturday. I know that all of us have been touched by the support have we have received as we have been preparing for this trip.  I promise that all of you will be remembered as I celebrate Mass each day during our visit.
Question: Since 1964 the Diocese of Cleveland has had an "El Salvador Mission" presence in that Central American country. Are you willing to share any connection or memory you might have of that mission presence over the years?