35 Years of Priestly Ministry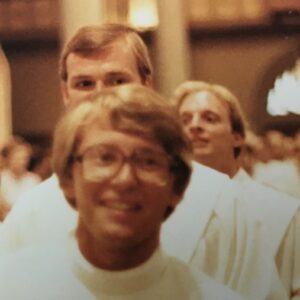 Thirty-five years ago, on June 13, 1981, I and fourteen other deacons walked into the Cathedral of Saint John the Evangelist for our ordination to the priesthood. The cathedral was packed. There was excitement in the air. The fifteen of us were pretty nervous and a little giddy. Our rehearsal earlier that week was on the field at Loyola of the Lake in Clinton, Ohio – during our retreat. We were the first ordination class of the Bishop Anthony Pilla – who had been installed as Bishop of Cleveland six months earlier, on January 6, 1981.
Among the many memories of that Ordination Mass was the laying on of hands. After the laying on of hands by Bishop Pilla each of us walked to the front step of the sanctuary. I vividly remember kneeling there, with the assembly chanting "Veni Sancte Spiritus" – "Come Holy Spirit" – and the priests moving one by one, laying their hands on my head. Some touched my head very lightly, while others seemed to press down with great intent. All of them calling down the power and presence of the Holy Spirit on this 26-year-old deacon. My eyes were pretty misty that day – a memory that comes back every year as I walk among brother priests as we lay hands on a brother at his priestly ordination.  It is a bond of the fraternity we share as priests!
As I reflect on the last 35 years there is a panorama of memories – I'm sharing some of them with you today – in a blog that is much longer than usual.
My first assignment was Saint Rita's in Solon. The priests, staff and people of that parish taught me how to be a priest – and I am ever grateful to them for that gift.  That parish community still holds a special place in my heart.
As any priest will tell you – a priest never forgets his first pastor. Mine was Father Kenny McNally – we were together for 9 months before he retired on his 70th birthday. He looked just like the priest in the old Barry Fitzgerald movies. An Irishman, a former army chaplain. After taking me on a tour of the parish on the Monday after my ordination – I remember walking into the church with him. This 69-year-old priest knelt down in front of the altar and asked for my blessing. When he stood up I remember him saying to me, "Love all of the people of this parish as gifts given to you by God.  Do not allow any one of them be treated or seen as your favorite – that will be destructive for you and this parish community!" A caution that I have never forgotten!
Among the many things that Kenny taught me was that you can't please everyone. In his words, "A third will tell you that everything you do is just wonderful, another third will always find something wrong with you or your ministry, and the final third simply want you to be there with them in their time of need.  Keep it all in perspective and you won't drive yourself crazy!"  I have to say that home-spun piece of advice has kept me balanced for 35 years.  He also was the one who helped me appreciate the importance of greeting people before and after Mass – and to genuinely listen when asking someone for their opinion.   Kenny was succeeded by Father Bob Wendelken, who took up the task of mentoring this newly ordained priest – and remains a close brother priest to this day.
In 1986 I was assigned to the Marriage Tribunal, where I served until 1995.That ministry put me in touch with many individuals who were seeking healing, compassion, and understanding from the church. I pray that I was able to be an instrument of God's love and mercy for them.
During those years I had the privilege of going to graduate school at Saint Paul University in Ottawa, the capital of Canada. The 2 years I spent in Ottawa gave me an appreciation of the wider, universal, church since there were students from 15 countries studying with me. The study of canon law enabled me to see that the law of the Church is the embodiment of its theology and pastoral practice – and to gauge its application on the principle that the supreme law of the Church is the salvation of souls.
My first pastorate was my home parish, Saint Agnes in Elyria. The parish community that literally prayed me through the seminary welcomed me as their pastor. Those were three good years – the people taught me what being a pastor was all about. I was fairly certain that this assignment wasn't going to last very long when Bishop Pilla invited me to be the Director of Clergy Personnel in the summer of 1995. Having been in Elyria only two years, I convinced him to let me give it a try as a dual pastoral assignment. By Christmas I knew that it just wasn't going to work – so in June of 1996 I stepped down from the pastorate and moved to the Cathedral.
From 1995 to 2004 I was the Director of Clergy Personnel. This assignment enabled me to experience the make-up of our diocese first hand as I facilitated pastoral visits at over 100 parishes in anticipation of the appointment of a new pastor. It was during those years that I developed a real appreciation of and a respect for the dedication of my brother priests and our companions in ministry – deacons, sisters, and lay ecclesial ministers.  I also experienced the wonderful diversity of this local church. Yes, we embrace different cultures, languages, traditions, and customs – but our faith in Jesus Christ, the celebration of the sacraments, and the reality that the parish community is where most people experience the "church" is what unites us a diocesan community. So many times during those years I drove away from a parish touched by the love the people have for the Lord Jesus, the church, and those who serve as leaders.
In 2003 I was appointed the Secretary and Vicar for Clergy and Religious – the sexual abuse crisis of 2002 was impacting everyone and every aspect of the church's life and ministry. In addition to being the facilitator of the bishop's outreach to and pastoral care for the ministers of the diocese, I, along with Sister Rita Mary Harwood, SND, became the "face" of the diocese's pastoral response to victims and survivors of sexual abuse by clergy and church personnel. I don't think that there was ever a time in my priesthood that I prayed harder or more intensely. In many ways those were the most difficult years of my priesthood – yet, in other ways there were the most graced-filled years.  It was during this time that I developed a much deeper appreciation of the ministries of the various religious communities of women and men throughout our diocese and their dedication to the charisms of their congregations and communities.
It would be during this assignment that Bishop Pilla would retire and his successor arrive on the scene. The appointment of Bishop Richard Lennon naturally brought about a period of transition in my life and ministry – as it did all over the diocese. When the restructuring process of 2009-2010 was finished, and having completed four years as a senior member of Bishop Lennon's staff, I discerned that the timing was right for me request permission to return to parish life.
Since September of 2010 I have been serving as Pastor of Saint John Bosco. When I accepted this appointment I was determined that I would transition into this parish community the same way that I had encouraged brother priests to do when they were appointed pastors. Listening to the people – learning from them the history of the parish and what makes it the great community that it is – as well as their hopes and dreams for the future.
Right now I'm pretty sure that I could not be happier. Parish life and ministry appear to be vibrant and life-giving. We are implementing a Pastoral Plan that is helping us to be "A Catholic caring community growing together in holiness through prayer, worship, fellowship and Christian service."
On this 35th anniversary, I realize that my priesthood, and the glimpse that I have given of it to you today, has been guided by the power and presence of the Holy Spirit that Bishop Pilla and the priests who laid hands on me at my ordination called down upon me. Like you, through baptism I was called to holiness – and through my ordination I have been sent to share in the apostolic mission of Jesus Christ among you.  I give thanks to God who invited me to the priesthood, and for all that God has done and will continue to do with an imperfect and broken vessel like me. I also give thanks to family, friends, and companions in ministry who have walked with me over the last 35 years. We have been there with and for each other throughout these years.
For all that has been – I give thanks. For all that is yet to come – I say yes. I assure you of my prayers. I ask for a kind remembrance of me in your prayers.
Finally, I encourage you to say a prayer for all priests, deacons and religious celebrating anniversaries this year; and pray that young men and women will be open to the call of God in their life. Pray also for the five newly ordained priests of our diocese who began their pastoral assignment yesterday – may they always be conscious of the movement of the Holy Spirit in their life and ministry!
For the summer months I will be blogging every three weeks. My next blog will be on July 6.
Question – Are you willing to share a positive memory of some priest you encountered along your journey of holiness and faith?
Save
Save
Save